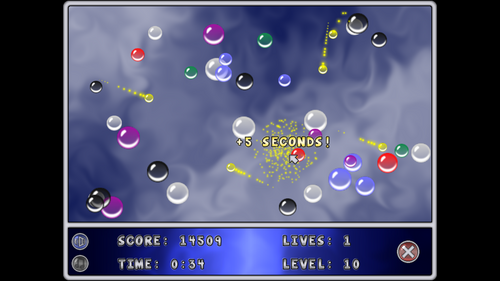 The modes
Original : Pop the bubbles while avoiding the ever increasing number of spiky balls. Catch Gold Bubbles when they appear to get score multipliers, extra lives, and temporary freedom from the spiky balls.
Timed : Pop all the bubbles before time runs out. The gold bubbles in this mode award additional time to complete the objective and persist between levels so you can save them if you like. Every level, the number of bubbles increases.
Momentum : Challenge yourself with quick and accurate play in Momentum mode. With only one life and the combo bonus slowly dropping, how long can you go before you lose momentum?
Objective : In this mode, you want to only pop the bubbles that match the example. All the rest are dangerous. With every level, more and more bubbles will fill up the screen. Gold bubbles grant extra lives.
Gravity : The sky is falling! Bubbles drop from the ceiling towards a menacing row of spinning spiky balls. Can you keep them from being shredded? Gold bubbles in this mode offer multipliers, extra lives, and the temporary ability to stop the descent of the bubbles.
Gold Rush : Can you figure out the secret of the gold bubbles? With only one life and steadily increasing spiky balls, how many points can you get?
Extra keyboard shortcuts :
F1 / F2 : Increase/decrease the volume. You can also scroll the mouse wheel while the pointer is over the sound or music buttons to do this. F5 : Take a screenshot. These can be found by searching for 'BubblePop*.png' in Windows. (Windows Key + F to open the search window) F10 : Switch from full screen to windowed mode and vice versa.
While playing, the 'P'key and Space bar will pause the game. So will switching out of the game window. To resume play, click on the pause button.